Caulking Contractor, Waterproofing and Restoration Services Indianapolis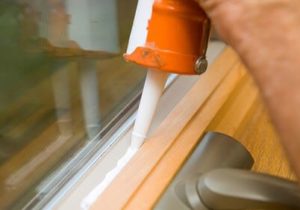 We are experts in residential, commercial and industrial caulking services:
New Construction Caulking
Commercial Caulking contractor
Driveway Caulking
Window Caulking
Residential Caulking
Caulks & Sealants for Siding
Expansion Joints
Stucco Caulking
Patio sealing & Caulking
Our window sealers offer exterior commercial building window caulking services. APS Technicians have the ability to caulk buildings ranging from 1 to 5 floors. Our employees are highly trained caulking and restoration experts and safety is our number one priority.
Access employees are trained professionals with years of experience removing & replacing failed caulking and control joints. Maintaining a leak free Commercial or residential property is an important aspect of any home or business. We can apply caulking to control joints, windows, doors, siding, wet sills, concrete, expansion joints, etc.. If you are looking for a commercial building caulking contractor or a residential caulking service Access Property Solutions of Indiana is the company to call. We only use the best commercial silicone and urethane caulking and sealants in the business and no other company offers a better restoration warranty.
We are the experts in commercial & residential building restoration & maintenance services. Water proofing and caulking services prevent air leaks, water vapor, insects & water leaks, saving thousands per year in property damage and utility bills.
If you are looking for a residential or commercial caulking company, give us a call for a free estimate.
Access Property Solutions Caulking Services:
Wood siding caulking
Wood trim caulking
Weather proofing caulking
Window caulking
Concrete expansion joint filling & sealing (commercial & residential)
Building restoration
Flashing & fixture caulking (exterior lights, chimneys, wall cracks etc)
Door caulking
Roof sealants
Access Property Solutions offers over 60 different commercial and residential services. No sub-contractors, uniformed employees, warrantied work, completely insured.
Our Professionals strive to be the most professional service company in Indianapolis, Indiana with years of experience. With all this experience under our belt, it has given us the ability to greatly increase our efficiency regarding the performance of the services we offer. Increased efficiency results in lower building maintenance and cheaper utility bills for our customers. At Access, we take pride in presenting a professional image by building our strong relationship with our customers. We service commercial building and residential restoration, maintenance and cleaning services, and have the experience to properly care for your property.
Serving Indianapolis, Carmel, Fishers, Westfield, Bloomington, and Shelbyville, Indiana.
For a complete list of services please check out our handyman services.