Over the past 30 years Access Property Solutions has grown to be Indianapolis' premier Professional services contractor in Indianapolis, Carmel, Fishers, Westfield and Bloomington, Indiana and surrounding counties by consistently producing quality work and at competitive prices.
APS, LLC specializes and offers a variety of professional services which include: Roofing, Gutters, Masonry, Professional caulking service, Exterior painting, Plumbing and water heaters, Siding repair, Window sill repair, Mold remediation, Concrete & masonry repair, Concrete & masonry cleaning and sealing, Pressure washing, Deck & fence cleaning and staining, Deck & fence repair, Drywall repair, Carpentry, Gutter cleaning, temporary fence panels, commercial gate automation, and a whole lot MORE! Please visit our service page for a complete list of all other services Access has to offer.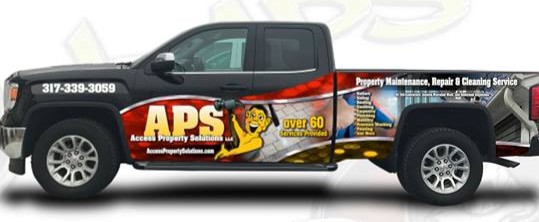 With luxury home builders you can rest assured you are getting the very best workmanship, top of the line materials and Professional uniformed employees that Indianapolis contractors have to offer. At APS we have trained professionals in every field of service APS has to offer, state of the art equipment to get the job done fast, reliable and with perfection. Unlike our competitors the quality of our workmanship cannot and will not be compromised. Our great reputation (5 stars on Google & Yelp) means everything to us. We always do our best work and our quality control is second to none. At Access we do not cut corners with cheap big box store materials, all of our commercial contractor materials and products are commercial grade only. Whether we are working on a high rise building, small store front or a residential home, we only use the top of the line materials and products, we do not buy our materials or products from big box stores that only last for a few months. Whenever we do work for our customers we constantly remind them of the different types of services that we offer including a burner service, Access Property Solutions is one service contractor for all your home improvements and commercial property construction needs, although now a days have been a lot of construction zone penalties that construction companies try to avoid, so they use legal resources you can find online to deal with these issues.
Don't Take A Chance, Call the professionals! 
Here at YVR Contracting we provide many professional services such as; property maintenance, installation, and repairs only to name a few.  APS, LLC offers over 60 different commercial and residential property maintenance services.  We are Indiana's most trusted general contractors, located in the Indianapolis area.  Access Property Solutions in Carmel is your one-stop shop in Carmel for all of your property maintenance, repair needs. Our customers are not just happy with the quality of our work but they also appreciate the many years of experience that we have under our belt.
Access Property Solutions in Carmel possess many attributes that other companies don't.  We do not use sub-contractors. Our highly skilled uniformed employees are more than capable of successfully completing any tasks that they are scheduled to do.  The work that we do is always precise.  There is no need to rush good quality.  Of course safety will be first at all times.
At Access Property Solutions our customers are extremely important to us.  The good quality work that we do definitely shows because a lot of the business that we get is from referrals from previous customers.  We are sure that you will be satisfied with the level of quality work that we provide.  All new customers are welcome right along with current customers.  If you are in need of having some work done on your property please feel free to contact us.  Our scheduling process is very simple.  Once you complete the form online one of our representatives will contact you within 30 minutes.  Access Property Solutions has been serving the Indianapolis area since 1988.  We stand behind all of the work that we do.  All of the work that we do is insured.  We are so confident with the work that we do that our customers receive an additional 5 year warranty.  So for all of your general contracting needs in Carmel or surrounding areas give us a call at Access Property Solutions.  Our contact number is 317-339-3059. We look forward to accommodating your business needs.