Painting Contractor | Serving the Indianapolis, Indiana Area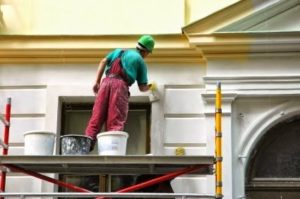 You may be an avid do-it-yourselfer, but when it comes to painting the inside or outside of your home, the job could get a little overwhelming especially if you don't have all the appropriate equipment that a professional painting contractor has. This could be one place where having a qualified painting contractor do the job is a better idea than trying to tackle the project yourself. Access Property Solutions, LLC. can safely and quickly complete the job for you. You want a company that puts pride and effort into their job.
Access Property Solutions, LLC has experience in a wide variety of projects. At Access Property Solutions, LLC., you'll find we specialize in two things: professionally painting your home and doing so with courtesy. When you hire Access Property Solutions, LLC., they treat you courteously, answer your questions fully, help you with your color selection, and overall treat you and your home respectfully.
Home interior painting is our specialty. You want lines that are straight, an even coat of paint, and possibly help picking out just the right color selection. Lastly, you're going to want paint only on the surface being painted, and not cabinets, carpets, baseboards, or your car.
If you're looking to have the exterior of your home painted, we can do that too. It's one thing to just throw a coat of paint on and call it good, but what about scraping loose paint, caulking, priming bare wood, protecting cars and roofs from over-spray and what about two coats, or is one enough? Painting your home can be daunting. It's our goal to help the process go as smoothly as possible. Don't hesitate to call us at 317-339-3059 to speak with a professional.
Serving Indianapolis, Carmel, Fishers, Westfield, Bloomington, and Shelbyville, Indiana.
You may also be interested in: Hiring a Professional Window Cleaning Expert in Indianapolis, Indiana Area