Gutter Cleaning – Carmel, Fishers, Indianapolis, In
Serving Hamilton & Marion County and surrounding areas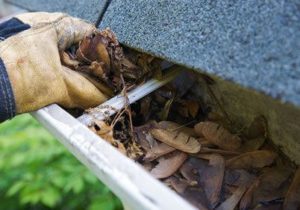 Gutter cleaning is a hazardous, dirty and time consuming job. Without proper Gutter Cleaning Contractor service and drainage, the water will back up and spill over the gutter and even back up into the roof causing major property damage to your home or business. It is always a good idea to maintain clog free gutters.
The property damages we have seen over the years due to not cleaning or maintaining the gutter system include – interior wall damage, mold, foundation, eroded soil, water damaged roof rafter tails/gutter boards and siding damage. The repairs can run into the thousands. These seemingly unimportant add-ons to your home provide an important service, directing rain water to a safe area of the home.
Routine Gutter Cleaning Maintenance
Routine maintenance, such as gutter cleaning and repairs are necessary to prevent home foundation issues, wood damage, basement leaks, mold and a myriad of other issues. Chronically clogged gutters add unnecessary weight to the gutters which can alter their pitch and prevent proper drainage. Without proper gutter drainage the water will collect and cause major issues for your home or business.
Residential or commercial gutters should be cleaned at least twice annually and for some homes and businesses even more often depending on the amount of tree's around the home or business along with many other factors. Cleaning your gutters on a regular basis keeps your downspouts from getting clogged and your gutters from over flowing and when you schedule your gutter cleaning with Access we will do a free inspection on your gutters, roof, foundation and siding to insure no damage has occurred. For Gutter repair services click here.
Reasons to hire a Professional to clean your gutters:
We've all heard the horror stories from homeowners falling off ladders and being seriously injuries while cleaning their gutters.
Safety – perhaps the biggest reason people pay others to clean their gutters.
Improper Equipment – no fall protection gear or wrong size of ladder to reach gutters.
Insurance – cleaning your own gutters is a risk to personal injury or death, because of this, home warranty and home insurance are a must. 
Heights – a lot of home owners call a professional gutter cleaning company because they're afraid of heights and have no experience walking steep pitched roofs.
Don't Take a Chance, Call The Gutter Cleaning Experts!
Access' Gutter Cleaning Service include:

Clean all gutters
Clean all down spouts
Bag all gutter debris & haul away
Free gutter, roof, foundation and siding inspection
Residential Gutter Cleaning Service
1 Story homes starting at $89.00 (depending on the pitch of roof and square footage of home)
2 Story homes starting at $120.00 (depending on the pitch of roof and square footage)
Access Property Solutions also offers the end to clogged overflowing gutters, with our many gutter protection systems:

Gutter Protection System
Strong, Effective and Affordable
Hallett Gutter Covers (gutter cover)
Hallett Rigid Flow (gutter screening)

No more ladders to climb
No more gutters to clean
Adds years to the life of your gutters
Professionally installed by a factory trained gutter contractor. Call Access Property Solutions today to schedule your free gutter cleaning estimate, or simply fill out our contact form and receive 20% off! any of Access' gutter cleaning or repair services.
(Access Gutter Solutions is live on the web 9:30am-6:30pm Monday-Saturday and will respond within 30 minutes of completing our contact form.)