Handyman Contractors in the Indianapolis, Carmel, Fishers, Westfield, Bloomington, Indiana area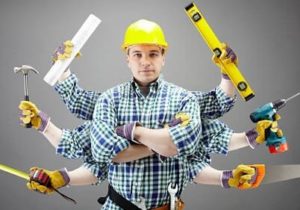 At Access, your Handyman Contractors, we offer a wide range of handyman services. Our residential & commercial handyman experts offers maintenance & repair, new installations, cleaning services, and even making a home extension plan with drawing items to work on new blueprints.
At Access, we have the solution to all your home improvement needs. With have over 60 different home improvement and handyman services to choose from. You can rest assure that we can handle any job, big or small, with superior attention to detail. Satisfaction is always guaranteed. Why waste your time calling multiple service contractors? When it only takes one call. Access employees are highly trained professionals in all services we offer. We do not use sub-contractors.
Your Home Improvement Handyman Contractors
Access Handyman and home improvements is your one call solutions for a wide range of commercial and residential services. Our services range from repairs, maintenance, new installations, cleaning services and even door building services that work in  Construction Doors & Hardware projects since they specialize in this. Our handyman experts are trained professionals and are extensively trained in high work applications. Safety is our number 1 priority.
Completely Insured
Uniformed Employees
States of the Art equipment
Warranted work
Background checks on all employees
Easy "contact form" scheduling
Free estimate
Don't Take a Chance. Call the home improvement experts Today!
At Access, we are committed to providing you with affordable pricing, easy scheduling, top quality products, trained professionals and 100% satisfaction guaranteed. We can even provide portable toilet rental services if needed and if the job calls for it.
Access Property Solutions offers you cost effective, time saving, property maintenance with peace of mind results. We go the extra mile at Access. Access gets it right the first time. We add value to our customer's lives, by taking care of their homes and/or businesses, so they don't have to.
Need a Handyman in Indianapolis?
Simply call us at 317-339-3059 (or 317-339-7218), or fill out our contact form and receive 20% off any of our home improvements services.
Don't have time to call? Access makes scheduling easy. (When filling out our contact form Access is live on the web the Monday – Saturday 8:30am – 6:30pm and will respond to your request within 30 minutes).